December 22, 2010

So Long, Bailey Building & Loan

By ROB COX, New York Times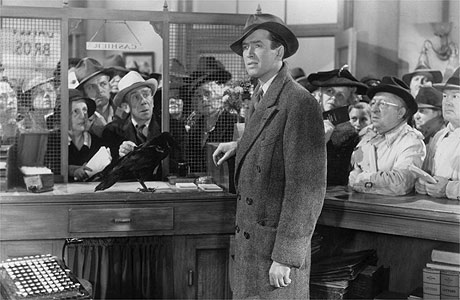 This is the time of year when families gather to watch Jimmy Stewart play George Bailey, the small-town banker who learns the value of extending credit to his neighbors with a little angelic intervention in "It's a Wonderful Life." Though Mr. Bailey remains emblematic of a benign banking system, most Americans probably don't realize he's the most endangered species in finance.
Hundreds of community banks, a fixture of small-town America, have failed or sold out to bigger rivals in the last year. But many more of the country's 7,650 smaller banks will disappear in the next few years — a consequence, unintended or otherwise, of government and regulatory decisions codifying the biggest banks as infallible.
As sad as that may sound, it may not be such a disaster for regulators, shareholders and, perhaps surprisingly, consumers. That's not to say the extinction of a species is to be blithely welcomed. Policy makers should certainly be asking whether there is a net negative consequence to rules and regulations that hasten the demise of the small, independent financial institution.
In some respects the spike in disappearing banks — up to 300 this year — simply represents a return to a long-term shift toward ever larger institutions that had slowed in the boom years of the last decade. At the beginning of the 1990s, the Federal Deposit Insurance Corporation oversaw 16,074 institutions. Within a decade that number had fallen to 10,222, an average net loss of 585 banks a year.
Over the next 10 years, however, the decline slowed. At the end of 2007, the number of institutions overseen by the F.D.I.C was shrinking at an average of 240 annually, mostly a result of mergers and acquisitions. The rate accelerated from 2008, thanks largely to failures — 157 this year compared with three in 2007.
The beneficiaries of this trend have been the biggest banks. At the start of the 1990s there were 59 institutions with more than $10 billion in assets holding 31.8 percent of the nation's stock of banking assets. Today, their ranks have nearly doubled to 109, while their share of assets has marched upward to 78.6 percent.
It won't stop there. For one, the F.D.I.C.'s troubled bank list covers 860 institutions — including many of the 600 or so that have yet to pay back bailout funds. While not all of them will be seized, many will wind up in the arms of larger, better-capitalized rivals.
Even healthy community banks are in for leaner times.
One of the reasons fewer banks vanished in the years leading up to the financial crisis was their reliance on commercial and residential property loans, which worked fine when prices were rising. But now they are being hit with big write-downs on those loans — and can't see where they can profitably deploy future funds.
At the same time, their costs are rising, and earnings are coming under increased regulation. Just last week the Independent Community Bankers of America protested the Federal Reserve's plan to cap debit interchange fees to comply with the Dodd-Frank financial reform act, saying it would put small banks at a disadvantage and make "the concept of 'free checking' a thing of the past."
Big banks are also dealing with more red tape, but their size, diversity of businesses and loan portfolios gives them economies of scale to absorb such expenses without doing away with free checking to new depositors. From a policy perspective, it is arguably a terrible turn of events that megabanks bailed out during the crisis are now luring customers away from the George Baileys of the world.
But look at it another way: having a few, heavily regulated banks might actually be safer. Canada is dominated by five giant institutions. But because they were regulated like utilities, the country's financial system averted the need for big bailouts. It's also more profitable for shareholders. According to the F.D.I.C.'s third-quarter industry survey, big banks have better efficiency ratios and generate higher returns on assets and equity.
Finally, consumers might benefit from a smaller universe of stronger banks competing for their affections. At the least, there might be more credit available to them. In the second quarter, for every dollar of deposits customers stowed in the vaults of big banks, 86 cents was extended to borrowers, according to SNL Financial. Smaller banks lent out just 79 cents for every dollar of deposits.
George Bailey may have been a nice banker. But he just might have been more effective working as a senior loan officer for Bank of America's Bedford Falls branch.
ROB COX