Published on
Investing Answers
By Sara Glakas
Created 07/07/2010 - 14:01
One thing Sara Glakas and Andy Obermueller have in common: They both love sniffing out the next banks to be seized by the FDIC. Six of the 20 banks on their lists have already failed, and the others may not be far behind.


Andy Obermueller and I have become great friends since I joined the InvestingAnswers/StreetAuthority team almost four months ago. We have a lot in common. We're both Midwestern farm kids. We both love to sneak in a mid-afternoon trip to the Cheesecake Factory for a little snack. And we both love sniffing out the next banks to be seized by the
FDIC
.
Maybe it's because we both grew up in small towns where banking was pretty straightforward. Bankers made loans to individuals to buy homes. Or start businesses. They guarded their deposits fiercely and protected the interests of their investors. Bad loans were an embarrassment to be avoided at all cost.
But during the past several years, banking changed. Bankers became wheelers and dealers, building massive empires with investment banking divisions, proprietary trading desks and hundreds of branches. The name on the sign changed every few months as banks famously grew "too big to fail." And they made billions of dollars of bad loans.
But the big guys like Bank of America (NYSE: BAC), Citigroup (NYSE:C) and Wells Fargo (NYSE:WFC) weren't the only ones rotting from the inside out. While the number of banks fell from 9,904 in 2000 to 7,932 in March 2010, the number of banks on the FDIC's Problem List grew from 94 (less than 1%) to 775 (almost 9.8%) during the same period. That is absolutely outrageous. And some of those 775 are banks in your community.
Regardless of whether your deposits are insured by the FDIC, do not settle for banking with unhealthy institutions. The relationship between banker and client used to be a long one, and there's no reason we can't go back to those days. Know your bank. Know its financial condition. And then choose who you can trust with your money.
I wrote my first bank failure article on May 14, 2010 and called it "10 Banks That Could Fail In 2010." Within two weeks, two of the firms on my Top 10 list failed (Midwest Bank, Bank of Florida) and I needed to update my article with "The Next 10 Banks to Fail."
Andy wrote "Is Your Bank One of the 433 in Immediate Danger of Failure" on June 9. Within 16 days, two of the firms on his Top 10 list failed (High Desert State Bank, First National Bank).
Between the two of us, we've predicted 6 of the 18 bank failures since May 14. Those numbers aren't too bad. Here are our original lists, including the banks that have failed since the articles were published: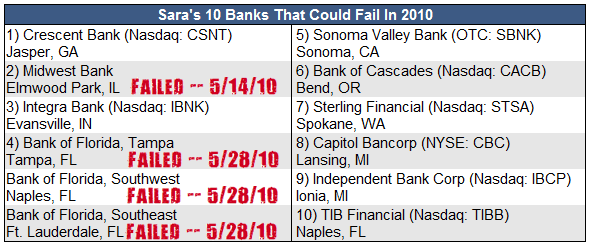 Andy and I are anxiously awaiting the results from the second quarter of 2010, which should start being announced toward the end of July. We both really, really hope the financial stability of the country's banks has improved. But if it hasn't, we'll continue sorting through data and updating our lists so that you can sleep well knowing your bank is not on the FDIC's radar.
In the meantime, we encourage you to go back and read our original articles to see the rationale we used to compile our respective lists. You can find them here: Is Your Bank One of the 433 in Immediate Danger of Failure, 10 Banks That Could Fail in 2010, and The Next 10 Banks to Fail.
Sara Glakas does not own shares of any security mentioned in this article.